Mexico's Culinary Capital: Oaxaca Cooking Classes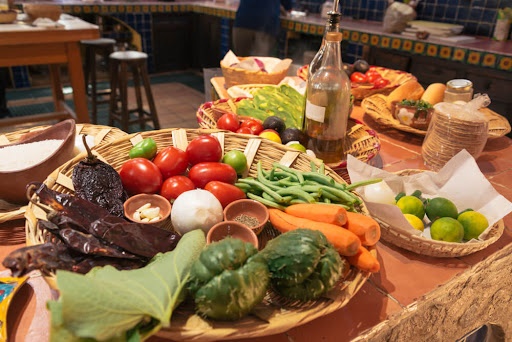 One of the best things about any vacation is trying the delicious food that is unique to the area . In Huatulco's state of Oaxaca, the food encapsulates flavors from diverse regions and microclimates. This, combined with the cultural diversity of the state, creates a culinary scene unlike anywhere else in the country! One of the best introductions to local cuisine comes from Oaxaca cooking classes with My Huatulco Vacation. Jump into a class with our local culinary expert and learn how to make notable dishes like mole, tacos, tlayudas, and margaritas.
Oaxaca Cooking Classes with My Huatulco
Local culinary expert Alfredo Patiño hosts our Oaxaca cooking classes. Watch our video on Private Chef Services for a brief introduction to Chef Patiño. Each class is 3.5 hours and includes detailed instructions on how to prepare each dish. You will also learn helpful tips and techniques, so you can recreate these dishes on your own at home!.
Our Huatulco cooking classes can be hosted at your Huatulco vacation rental or at a nearby cooking school. Regardless of where you want to learn, choose one of the classes below and learn how to make traditional dishes from start to finish!
Fiesta de Pueblo: Learn how to make authentic tacos and margaritas from scratch!
Spicy Passion: This class will teach you how to create the perfect Chiles Rellenos, made using stuffed poblano peppers.
Costa: Craft a delicious ceviche with locally caught seafood during this class.
Holy Mole: Oaxaca is world-renowned for its mole; create the famous Black Mole during your getaway.
Tamales: This class will teach you the techniques to make the best authentic tamales.
Shop & Cook: This experience will take you into La Crucecita to pick up local ingredients from fish shops, butchers, farmers, and street vendors to use in dishes.
De La Abuela: This class focuses on creating Chicilo, green mole, and bean soup.
Fusion: Learn the recipe for the famous shrimp stuffed pineapple popularized in our Huatulco beach restaurants.
More Culinary Experiences at Oaxaca Restaurants
Continue your culinary journey in Huatulco and let our local restaurants do the cooking for you!
Chef Services with My Huatulco Vacation
If one of our Oaxaca cooking classes doesn't piques your interest, let us bring one of our talented chefs to you! Our Private Chef Services includes a local cook who will prepare and serve your custom meal selections in the privacy of your vacation home. Our luxury Huatulco vacation rentals offer the perfect basecamp for your Oaxaca getaway. Use our custom property selection tool and let our team at My Huatulco Vacation find the best property for your group!