WHERE IS HUATULCO?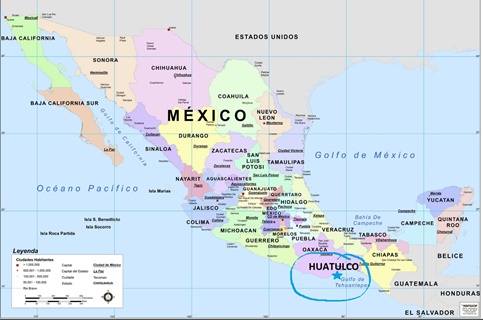 Located in the state of Oaxaca on the Pacific Coast of Mexico, Huatulco was once a small fishing village but has long since transformed into a mainstream travel destination (local airport code HUX). Many visitors first struggle to pronounce our destination name ([wa'tulko]; wah-TOOL-coh) and then scramble to find more information about our little known pinpoint on the map!
Oaxaca's intricate cultural tapestry continues to inspire and fascinate both domestic and international travelers. We invite you to discover coastal Oaxaca through Huatulco's unique culinary experiences, coffee plantations, mezcal boutiques, thriving sealife along its protected shoreline and through its historical sites. Offering an abundance of world class land and water activities, guided by those whose families have spent generations on this coastline, you will be welcomed like a local and wish you never had to leave!
Our list of 101+ Things to do in Huatulco is a great resource to start planning your experience.
Our picturesque coastal town is one of Mexico's southern-most tourist destinations and offers a much lower-density experience than other mainstream travel hubs in Mexico. Its local vibe appeals to travelers looking for an authentic cultural experience that reaches beyond the big box stores and chain restaurants. Offering pristine coastal and mountain beauty, thanks to its eco-friendly/Green Globe Certified environmental standards, Huatulco brings you back to a place in time where travel connects people, making strangers feel like family.
Beyond learning where Huatulco is located and how to get there, understanding what the destination is known for, what kind of excursions and activities you can do while in the desintation and what your accomodation options are all part of the trip planning journey! This page and the links provided within it should answer many of those questions for you!
COVID-19
BOOK YOUR COVID-19 TEST ONLINE
Traveling during the Covid-19 Period is a concern for all travelers as they look to plan safe and healthy vacations for themselves, friends and family. This is a key concern for the team at My Huatulco Vacation and for the Huatulco community as a whole. To support the goal of continued safe travel in the destination, My Huatulco Vacation is offering a Concierge Covid-19 Test Booking Service. This allows all travelers to plan and reserve their required tests using our secure online booking portal. We hope this provides peace of mind for those traveling to our community and supports the ongoing effort to minimize the effect of Covid-19 on those wanting to pursue travel plans.
Mask protocols continue to be in effect through the destination and safety practices are in place in all high-traffic areas such as grocery stores, restaurants and shops. Given the fact that Huatulco is a tourist zone with low population density, finding space for private expriences is never a problem. Whether you are looking for a private beach to enjoy for the day or a private boat or yacht to charter for your group to enjoy the ocean on your own, Huatulco can accomodate.
WHY VISIT HUATULCO
Huatulco gives us so many reasons to choose this destination. The weather tends to be a strong factor as most tourists venturing to the Oaxacan coast seek its incredible 330 days/year of sunshine! During the coldest months in North America's northern regions, Huatulco typically delivers hot and sunny weather 7 days a week...making it a reliable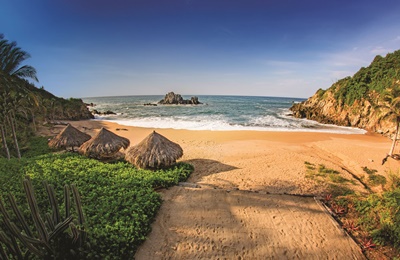 choice for those looking to escape the cold and dull weather! And what better thing to do in the warm and sunny weather than visit the beach?
"The beaches in Huatulco are absolutely stunning. The sand is soft and with a beautiful lightly-toasted hue, and the water is clear and sparkles like jewels...one could literally revolve an entire vacation around visiting the varing ones in the area." - Negra Bohemian
Not only do Huatulco's beaches offer stunning scenery and warm ocean water, some beaches offer the perfect opportunity to finally check the box on learning how to surf!! The winter months offer gentle breaks that provide the an ideal setting for surf lessons. For more experienced surfers, Huatulco plays host to an international crew of surf addicts during the summer months as the Oaxacan swell really heats up. Local surf guides can provide access to hidden areas on the coast that offer some of the best surfing in the region! If you're more interested in watching the experts than becoming one, you can head down to La Bocana beach to catch a glimpse of the local surfers playing in the waves while you experience a local mud bath or just enjoy a cold beer and some hot sun! While tourists are typically drawn to Huatulco for its sunny tropical winters, it transforms in the summertime offering an abundance of beautiful flora, raging rivers ready for white water rafting and a perfect chance to venture up into the mountains to experience a change in climate while getting to walk through coffee plantations that have been filling cups for generations! But undoubtedly, it is the people of Huatulco who make the experience. This community is like no other in the way it welcomes and embraces visitors, sharing the Oaxacan culture, the incredible culinary creations, and its knowledge of everything about Huatulco from hidden dive spots to where you can find the best local coffee. Those who stay within the confines of a resort experience are missing the very heart of this destination.

Traveler Tip: No trip to Huatulco would be complete without sampling Oaxaca's infamous Mezcal which can be found everywhere from specialized boutiques to the shelves in the grocery store! If you choose to stay in a My Huatulco Vacation rental property, we can bring the sampling experience to you with our Mexican Culinary Experience Night!
WHERE TO STAY IN HUATULCO
"Along a 70-mile stretch of Mexico's Pacific shore, 4-towns include seemingly every stripe of simpatico beach getaway. Surfing, ecotourism, hippie chic, and luxe family resorts all coexist-and, blessedly, without any crowds." - Conde Nast Traveler
Accommodation options in Huatulco include Private Villa & Condo Rentals (My Huatulco Vacation Collection), Large All Inclusive Resorts (Secrets Resort and Spa, Dreams Resort & Spa, Las Brisas Huatulco, and The Bar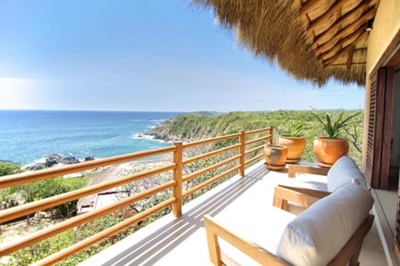 celo), Boutique Hotels & Resorts (Quinta Real, Camino Real Zaashila, Quinta Bella Huatulco, Mision de Los Arcos, Celeste Beach Residences) along with dozens of other small independently-owned centrally located hotels and coastal B&Bs.
Traveler Tip: Some of the Boutique Hotel properties offer onsite private residences. When rented through a local Vacation Rental Agency you can often find more competitive rates than those found directly through the resort. These properties are located in the Camino Real Zaashila and Celeste Beach Residences). You can also find private developments that offer many of the amenities found in resorts (onsite dining, multiple pools, beach access, fitness centers, etc.). These developments include: Cosmo Residences (Comparable to Dreams), Montecito Beach Village (Comparable to 5-Star Luxury/ Four Seasons Resorts style residences)
HUATULCO'S OCEAN LIFE
Huatulco's greatest appeal is its 9 Bays and 36 Beaches. Even at the most popular beach in Huatulco, you will never have trouble finding a spot for your towel and umbrella! And if you're willing to get in a boat for 10-15 minutes, you can often have a beach all to yourself! Huatulco's unspoiledwaters and sandy shores offer some of the most wonderful ocean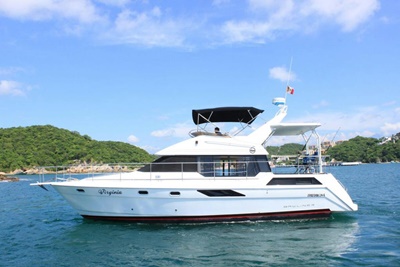 experiences in this part of the world! Almost never will you take to the seas without seeing giant sea turtles, rays and dolphins.
"Almost immediately, we felt immersed in nature: The shell of a large sea turtle bobbed in the distance. A pelican divebombed a fish in front of us. We circled small rock islands [in sea kayaks]...As much as the blue waters and beige sand beckoned, I couldn't help but look at the mountain foothills behind us." - Desert Sun
Between November and March, more times than not, you will be able to watch the whales come up for a visit while you travel alongside them in the boat. For those who love deep sea fishing, Huatulco always delivers magic. Fishing enthusiasts should consider participating in the annual fishing tournament (usually held in May). There is also a whole world to discover beneath the surface of the water and for those of you who enjoy diving or snorkeling you may want to read through our Huatulco Scuba Diving Guide.

Traveler Tip: If you hop in a taxi and head up to Huatulco's San Agustin Bay, you will find incredible reefs where you can enjoy hours of snorkeling along with a wide variety of beachside palapa restaurants where you can grab some lunch and a cold cerveza...and all this without the crowds!
HOW TO GET TO HUATULCO
To begin your trip planning, we can direct you to our flight page where you can access more details on airlines offering service to Huatulco's International Airport (Airport Code: HUX). Visit our Flight Information Page Here!
To better understand where we exist on the Mexican landscape...here is a map view: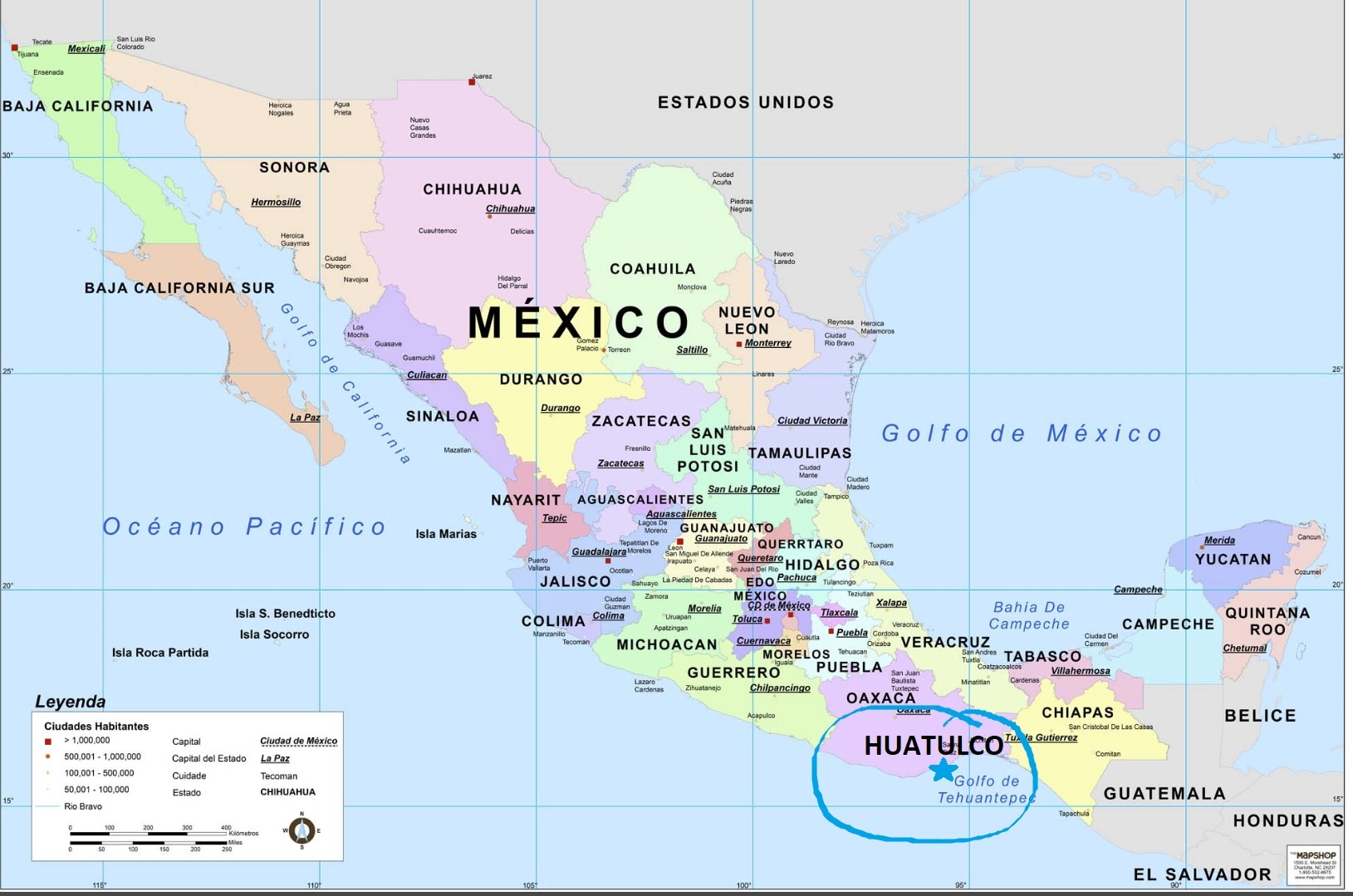 To offer some perspective on Huatulco's transformation over the past 40 years...
Take a look at Huatulco's Santa Cruz harbor in the 1980's (photo courtesy of Wahaca Cooking)

And some modern views of Santa Cruz, Huatulco as it now looks today!