Top 5 Things to do in huatulco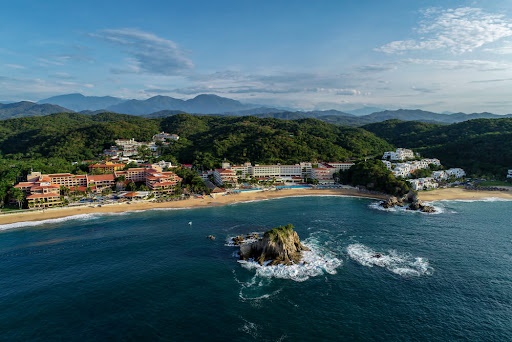 Located in Southern Oaxaca, where soft sand beaches meet the Pacific, you will find the hidden gem of Huatulco. Far from the tourist hotspots, Huatulco delivers an authentic cultural experience through the intricate cultural tapestry of Oaxaca. My Huatulco Vacation invites you to explore our picturesque bays, lounge on our beaches, surf in our waters, and sample our local culinary delights. Today, we will narrow our list of 101+ things to do in Huatulco to the top five activities that can be arranged with My Huatulco Vacation tours!
1. Rent a Private Yacht
One of the best ways to explore the bays of Huatulco is on a private yacht. Explore the bays of Santa Cruz, Maguey, Organo, Cacaluta, Chachacual, and San Agustin. Book your Huatuclo Yacht here and let our experienced crew take you to the area's best fishing, snorkeling, and swimming spots. We can tailor any tour of the bays based on your interests!
2. Catch a Wave at Playa La Bocana
Playa La Bocana is the best spot in Huatulco if you are interested in surfing. Even if you've never been surfing, this is an excellent spot to learn with the Bocana Surf School or our Huatulco Surfing Tour. Other popular things to do in Huatulco at La Bocana include mud baths, nature walks, and oceanfront dining.
3. Swim with the Fish
Witness the abundance of marine life in our waters with Huatulco scuba diving at more than 30 dive sites. Diving experiences include underwater canyons, cliffs, coral plates, volcanic rocks, and several species of rays, turtles, and eels. We offer Huatulco Scuba Diving Tours that include everything you need to explore our marine world, including equipment and professional instructors.
4. Experience a Full Moon Float Trip
Experience a one-of-a-kind full moon float trip down the Copalita River. Imagine floating down the gentle river as you take in the sounds of nature and gaze at the stars above. The float ends at La Bocana Beach, where a bonfire, snacks, and drinks will await your arrival.
5. Take a Culinary Adventure
Oaxaca is the culinary capital of Mexico, and sampling our cuisine is sure to be the highlight of your vacation. Take a culinary adventure with local chef Alfredo and take your taste buds on a memorable journey. Some popular dishes in Oaxaca includes mole, tlayudas, memelas, chocolate, empanadas, chapulines, and mezcal. Or join us for a Huatulco cooking class to learn how to make these traditional dishes for yourself!
Discover 101+ Things to Do in Huatulco Today!
Discover the top five things to do in Huatulco for yourself by planning your getaway with My Huatulco Vacation. Discover more vacation ideas on our 101+ things to do page, and let us take care of the details! Your on-call concierge will help you set up anything from tour bookings to chef services and property support.
Begin your search for the perfect vacation home by filling out our custom property selection form. We will then email you customized Huatuclo vacation rentals that meet your requirements. Book your Mexico getaway today!