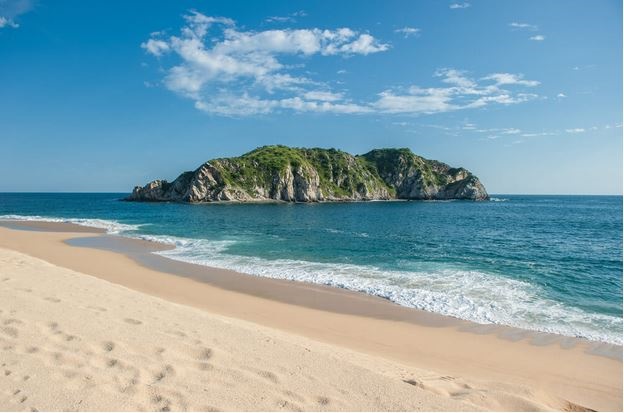 A Guide to the Best Huatulco Beaches
Huatulco is well known for the nine bays and 36 beaches that line the picturesque coast. The golden sand contrasted by the glistening emerald waters can be enjoyed year-round here, with the sun shining an average of 330 days a year! The Huatulco beaches are truly special and distinct, with different amenities and activities available at each. At My Huatulco Vacation, we have over 60 oceanview villa and condo vacation rentals to choose from, so you'll never lose sight of the beach. So, whether you are looking for a laidback family beach day or an adventurous afternoon of water activities, Huatulco has it all!
Playa Santa Cruz
Playa Santa Cruz is one of the busier Huatulco beaches since it is surrounded by convenient amenities like an artisan market, restaurants, hotels, equipment rental, and boat charters. This hot spot is popular amongst families since the waters are calm and perfect for water activities. This is also where you'll find the Cruise Ship Pier, so be prepared for crowds on cruise days!
What to do: Swimming, snorkeling, paddleboarding, sport fishing, boat tours. Where to stay: We have seven beautiful properties to choose from in Santa Cruz ranging from one to four bedrooms!
Playa San Agustin
Playa San Agustin is a hidden gem in Oaxaca and is accessed by a boat from Santa Cruz or a lesser-known dirt road. This quiet beach is an excellent place to avoid the crowds and experience the tranquility of Huatulco.
What to do: Playa San Agustin is an excellent beach for snorkeling and diving. Where to stay: Access the beach by boat from Santa Cruz
Playa Cacaluta
Playa Cacaluta is a star in Mexico; literally, this beach is so beautiful it has been featured on several movies and television shows! Even though it's considered one of the best beaches in the region, it remains relatively quiet since it is not easily accessible. The easiest way to get to this white sand beach is with a boat ride.
What to do: Sightseeing, Exploring coral reefs with Cacaluta Scuba Diving.
Where to stay: As this beach is located within the National Park, there are no accommodations in the immediate area. Your best bet is to choose a property in Santa Cruz where you can hire a local panga boat to get you there in a short 15 minute ride, or talk to a local mountain bike guide in Santa Cruz to show you how to ride out on the jungle trails!
Playa La Entrega
If you are looking for a beach with plenty of restaurants and activities, then we recommend visiting Playa La Entrega. Known for its phenomenal snorkeling and live reefs, you can access this beach via land, boat, or paddleboard. Families will love relaxing in the sand, exploring the calm waters, and dining on fresh seafood at the nearby restaurants.
What to do: Swimming, snorkeling, diving, boating, and dining.
Where to stay: Overlooking Playa la Entrega, this condo offers incredible ocean views, rooftop terrace with bar and direct beach access - View Barlovento PH Condo
Playa La Bocana
We couldn't have a post about local beaches without mentioning surfing hotspots. This well known beach is quickly becoming known for its hippie-chic vibe with its cobblestone streets, popular mezcaleria and some of Huatulco's most luxe vacation rental options! Playa La Bocana is Huatulco's local surf beach and an excellent place to try boogie boarding or to sign up for a surf lesson. There is also a popular Oaxacan cooking school, a couple of great restaurants where you can grab a bite to eat after a day in the sun and one of the best walking beaches in Huatulco!
What to do: Playa La Bocana offers mudbaths and excellent stargazing at night.
Where to stay: Check out our Luxury Huatulco Beach Villas in La Bocana Region
Luxury Oceanfront Rentals in Huatulco
These are five of the best Huatulco beaches you can visit during your Oaxaca vacation. Discover the 30+ local beaches and see how many other beaches you can check off your list! Access the beach from the comfort of your luxury property with My Huatulco Vacation. Our oceanfront rentals are the perfect way to experience the golden sands of Huatulco. Start planning your vacation at the beach today!