Discover Mexico's Pacific Coast: Things to Do in Huatulco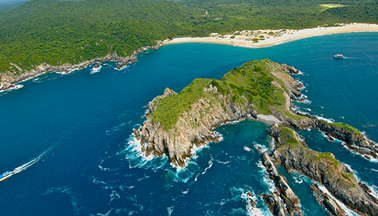 Huatulco is on the beautiful Pacific Coast of Mexico, home to 30 pristine beaches, nine bays, diverse landscapes, and year-round sunshine. Unlike other resort towns in Mexico, Huatulco remains a hidden gem where you can experience local culture in abundance. Whether you want to hike jungle paths that lead to untouched beaches, try unique culinary dishes, scuba dive amongst marine life, or walk through historic sites, there are endless things to do in Huatulco. Stay with us at My Huatulco Vacation, and let us introduce you to the magic of the region with our premier vacation rental services.
Discover Local Culture and History
Huatulco is an excellent destination for those interested in an authentic cultural experience. Spend your time shopping at the local markets, walking through ancient ruins, and feasting on delectable Oaxacan cuisine. Here are a few of our favorite things to do in Huatulco:
Discover Beaches and Nature
Huatulco is surrounded by a beautiful and diverse natural environment that is truly picturesque. Beaches line the coast, waterfalls cascade, and lush vegetation fills Huatulco National Park. Immerse yourself in nature at these Huatulco sites:
Bays and Beaches: There are many ways to explore nature at the 30 beaches and nine bays in Huatulco. Popular activities include snorkeling, scuba diving, mud baths, jet skiing, and surfing. Playa Zipolite and Playa La Entrega offer great destinations for these water activities.
Huatulco National Park: This Oaxaca National Park is over 29,000 acres and is home to one of Mexico's largest and most diverse ecosystems. With 9,000 plant species and hundreds of birds and reptiles like pelicans, hawks, iguanas, and salamanders, life is abundant here. Visit the park for hiking, snorkeling, and surfing.
Hagia Sofia Ecological Park: This park is the best place to experience the flora, fauna, and wildlife of Huatulco. You can walk through an exotic flower trail, taste seasonal fruits, marvel at butterflies, hike to La Campana Waterfall, or experience the thrill of zip-lines.
Elite Vacation Properties in Huatulco
Now that you know all about things to do in Huatulco, the next question is where to stay. My Huatulco Vacation offers the region's widest selection of vacation properties along with our on-call concierge service to customize your getaway. We offer itinerary planning, chef services, pantry stocking, and airport transfers to help make your vacation perfect in every way. We have over 70 beautiful properties with fantastic amenities like pools, spas, swim-up bars, and beach access. Start planning your vacation to Huatulco today!