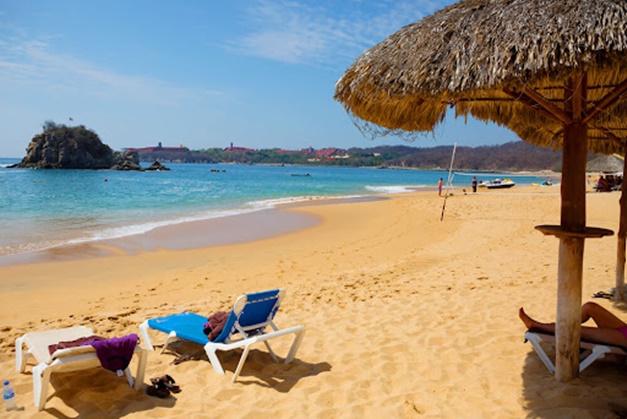 Plan the Best Family Summer Vacation in Huatulco Mexico
Families usually plan their vacation in Mexico to escape the cold of winter. But, many foreigners don't realize that Mexico is just as incredible during the summer months. Summer in Huatulco brings warm weather, lush greenery, abundant wildlife, vibrant festivals, and endless activities for families. Summer is our low season, so you can expect fewer crowds and enjoy lower costs on accommodations and activities. My Huatulco Vacation offers the region's widest selection of luxury properties to host your family this summer. We are here to help you plan the best family vacation in Mexico!
What Can I Do in Huatulco During Summer?
There are many reasons why Huatulco makes the ideal summer vacation destination for friends & families. Not only will you save money on your accommodations and activities, but you will also have plenty of things to do together. Embark on an eco-tour, plan your vacation around the annual Guelaguetza festival, and explore the lush landscapes this summer in Huatulco!
Explore the Outdoors
Summer is the wet season in Huatulco…but the rain is sporadic and certainly won't ruin your vacation. In fact, the rain transforms the vegetation into lush and abundant greenery, creating the perfect backdrop for outdoor activities! It is also peak surf season with the coast serving up big waves for surfers visiting from around the world! Visit the botanical gardens at Hagia Sofia and witness the beautifully lush flowers and plants or get out there and take a surf lesson so you can check off the bucketlist accomplishment of riding the waves!
Embark on an Eco Tour
The sea turtles and the ever-docile whale sharks return to our water with the warmer weather. While amazing to see in the wild, whale sharks feast on fish and plankton and therefore don't present a threat to humans. Start the best family vacation in Mexico with an exciting eco-tour. Join our Huatulco Turtle Release tour or the Huatulco Scuba Diving tour.
Plan Your Vacation Around Guelaguetza
One of the most notable festivals in Mexico takes place during July in Oaxaca. Plan your Mexico summer getaway around the Guelaguetza, a cultural celebration of the unique regions in Oaxaca. The event features dancing, singing, traditional clothing, and local cuisine.
Experience the Best Water Activities
The rainy season makes our favorite water activities even better! Surfing is best in the summer when the swells are strong. The waterfalls Cascadas Magicas are best seen after a rainy day. And whitewater rafting adventures are fantastic with the rushing rivers!
My Huatulco Vacation makes it easy to plan a family summer getaway in Huatulco. Our on-call concierge is available to help make your vacation perfect in every way!
We can help customize your experience with our Itinerary Planning services and tours.
Enjoy authentic Mexican cuisine from the comfort of your Huatulco vacation rental with our chef services. Whether you want your pantry stocked upon arrival or a full-service package, we have you covered!
Download our MHV app, and your concierge will be on call with the click of a button!
Join Us for the Best Family Vacation in Huatulco, Mexico
My Huatulco Vacation offers an impressive collection of Mexico condos, villas, and luxury properties for families. Fill out our Custom Property Selection, and our reservation agents will find properties that meet your specific criteria. We are also currently offering a 15% discount on our Huatulco villas that sleep 10+ guests. The promotion is valid from April-November with a minimum stay of three nights. Use the promo code LGVILLA2022 during checkout and take advantage of our season's lowest rates. See for yourself why Huatulco offers one of the best family vacations in Mexico!