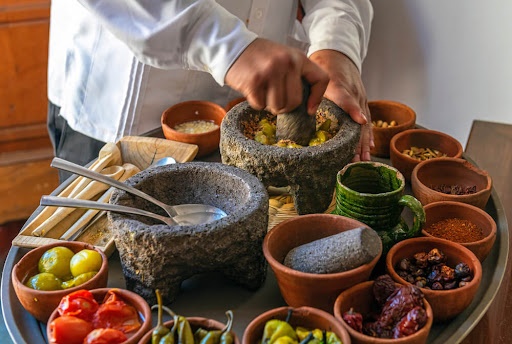 Explore Oaxacan Cuisine: Mexico Vacation Rentals with Chef Services
Huatulco is located in beautiful Oaxaca, the culinary capital of Mexico, and a paradise for foodies known for its delicious mole, tlayudas, and chocolate. Our Mexico vacation rentals with chef services bring Oaxacan cuisine to the comfort of your rental home so you can experience this culinary capital's unique flavors during your getaway. Read on to learn more about Oaxacan cuisine and the culinary packages available with My Huatulco Vacation. We strive to take the stress out of meal planning while enriching your vacation experience with our convenient chef services.
The Land of a Thousand Moles: What is Oaxacan Cuisine?
Oaxaca is the culinary capital of Mexico, but what makes Oaxacan cuisine so unique? Oaxaca is incredibly diverse, with 16 Indigenous groups contributing to the cultural and culinary heritage of dishes like mole and tlayudas. Oaxaca cuisine is also influenced by distinct microclimates that grow all the ingredients used in the dishes. From mountainous terrain to tropical coasts, there are large areas to grow the corn, chiles, herbs, and greens that are staples in Oaxacan cuisine. Unlike many other states in Mexico, Oaxaca cuisine remains untouched by European ingredients with a commitment to tradition and homestyle cooking.
What Food is Oaxaca Known For?
With so much diversity in Oaxaca, it's no surprise that there are dozens of signature dishes to choose from. With My Huatulco Vacation, we can bring the flavors of Oaxacan cuisine to your vacation rental with our chef services. But, before we highlight our packages, we'd like to introduce you to a few of the most popular Oaxacan cuisines:
Mole: Oaxaca is most known for its seven moles that range in color and flavor. The sauce is made with chiles, nuts, sesame seeds, and spices.
Tlayudas: Commonly known as 'Mexican pizza,' tlayudas feature a crispy tortilla loaded with thinly sliced meat, salsa, beans, mole, and cheese.
Memelas: These thick corn tortillas are a breakfast staple in Oaxaca.
Chocolate: Oaxaca is known for its chocolate production, and cacao beans are used in various dishes, from mole to hot chocolate.
Empanadas: Forget everything you know about empanadas because Oaxacan empanadas are unique. They are larger, made with fresh corn flour, and stuffed with meat and cheese.
Chapulines: Grasshoppers are a popular protein source in Oaxaca, often served in tacos and even ice cream.
Mezcal: The majority of Mezcal comes from Oaxaca. This alcoholic drink is made from agave, and we offer a Mezcal Tasting at Home experience so you can sample this traditional drink yourself!
My Huatulco Vacation Chef Services
My Huatulco Vacation offers Mexico vacation rentals with chef services, so you can easily enjoy a taste of Oaxaca without the stress of finding the right restaurant. The arrival day package is a guest favorite and provides a stress-free way to begin your vacation. This package includes a local cook coming to your property to prepare the first three meals of your holiday. The full-service package includes meals prepared by a local cook for the entire duration of your stay.
Finally, our Mexican culinary package brings talented chef Alfredo Patino to your vacation rental for a superb four-course meal. Experience an authentic taste of Oaxaca and learn about the unique culinary traditions behind tasty dishes like mole and grilled tlayudas. Watch our YouTube video on private chef services to learn more about the farm-to-table experience with chef Patino.
Stay in Mexico Vacation Rentals with Chef Services
Our Mexico vacation rentals with chef services are only the beginning; your on-call concierge makes planning your entire getaway a breeze! With over 75 Huatulco rental properties to choose from, we can help you narrow down the list with the custom property selection form. We can't wait to introduce you to our slice of paradise in Mexico!
Want even more culinary experiences in your vacation rental? Check out the following experiences available with My Huatulco Vacation: Huatulco Cooking Class, Mezcal Tasting at Home, and Bartender Service at Home.